Commerce Management Software
Seamlessly Connect Your Storefront with the Back Office
The Acumatica Commerce Management Software is ideal for mid-market retailers, distributors and manufacturers. Eliminate the inefficiencies and tediousness of siloed operations and enjoy complete visibility across your entire organization.
Streamline communications between the back office and storefront with an omnichannel solution that empowers you to run your business, your way! Manage and track your orders on the go with the native mobile app for android and apple. Boost customer satisfaction by automating every facet of your business.
Acumatica Commerce Edition enterprise resource planning (ERP) software is an end-to-end business management solution that enables seamless integration with popular eCommerce platforms such as Magento, BigCommerce, and Shopify.
Tired of error-prone repetitive manual entries? Choose a solution that integrates your eCommerce storefront with your financials, warehouse, and distribution for complete real-time visibility and control – from order acceptance to fulfillment.
With Acumatica, you will always know the health of your company's operations – from your web store to fulfillment and financials – to help you identify problems before they occur.
Maintain a consistent online and offline customer experience and ensure that your brand, reputation, and profitability are constant. Acumatica's native integration with your eCommerce website lets you create unique customer experiences to augment your in-store brand experience so that you can attract and retain customers for life.
Acumatica's integration with popular eCommerce platforms such as Magento, BigCommerce, and Shopify provides a truly unified commerce solution that lets you:
– Simplify and accelerate the buying process
– Offer customer-specific pricing
– Recreate your in-store point-of-sale customer experience
– Ensure accurate order delivery
– Facilitate multi-channel customer returns
– Create innovative offers and promotions
– Feature customer loyalty programs
– Provide tracking information for customer shipments
– Give customers what they want, when they want it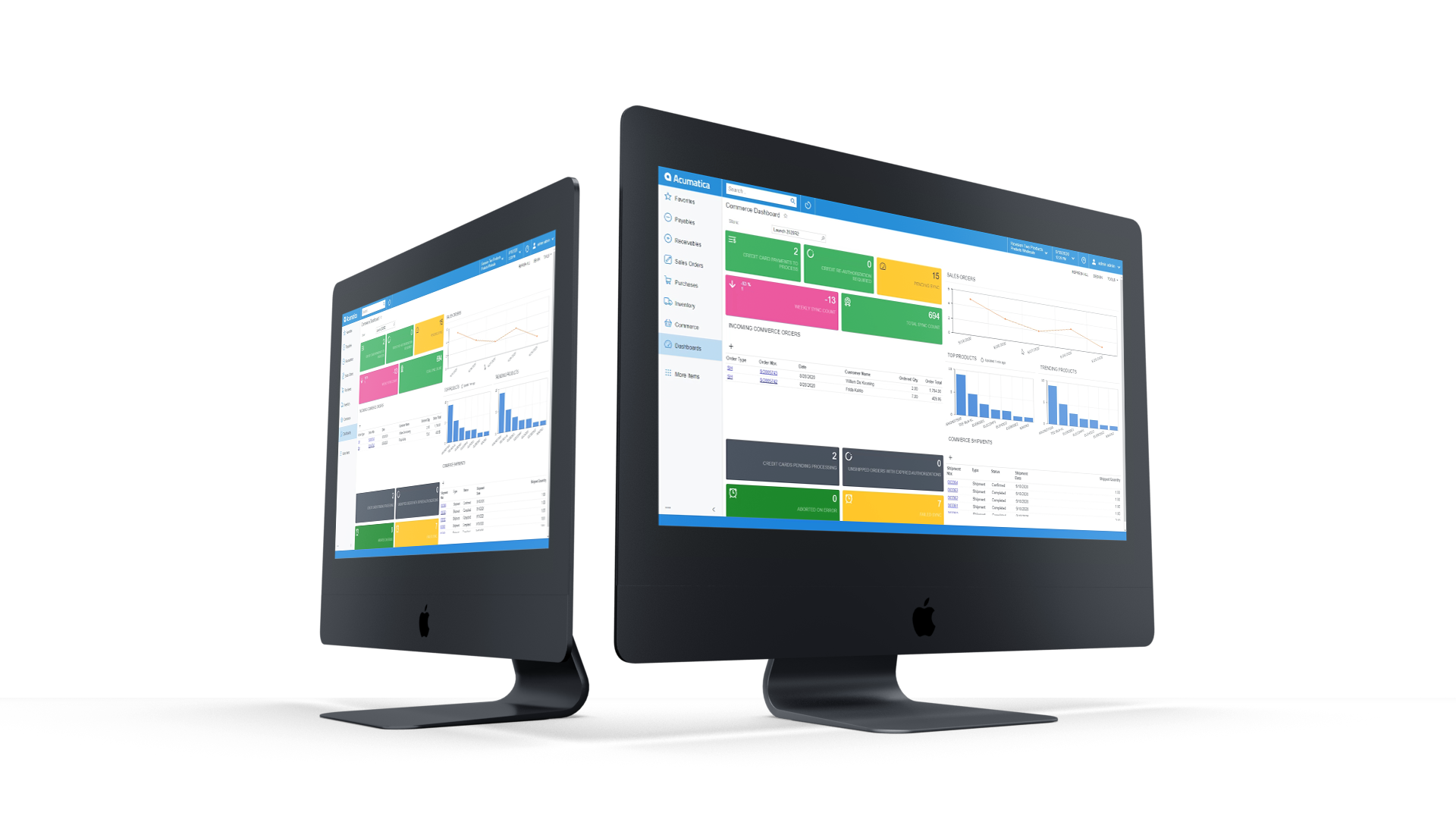 Run your commerce business on a future-proof platform
Is entry-level small business accounting software slowing you down? Invest in a system that eliminates re-keying sales information from one system to another. Integrated Commerce Management Software that exchanges data between your ERP and eCommerce website seamlessly.
Acumatica easily integrates with top eCommerce providers and marketplaces to ensure that your financials and inventory will always remain current. As your eCommerce business grows, you need a back-office system that will grow with you to handle your financials, fulfillment, and inventory management as well as help you recreate your unique customer experience online.
Acumatica is a flexible, commerce-enabled ERP that offers native support for customer-specific pricing, products with variants, multiple warehouses, discounts, and promotions, shipment tracking, and more.
Always available on the device of your choice, Acumatica enables continuity of operations for small and midmarket organizations.